Are you an Orlando resident who wants the best transportation in town? Coming to the city and looking for unsurpassed limo service in Orlando, Florida? Whatever your transportation needs or your destination here in Central Florida, our high quality services are where you'll find the perfect vehicle for you. Orlando's popularity is due not only to our world-class theme parks and recreation, but is a popular business destination as well. Many arrive in our city through Sanford Airport or Orlando International Airport. Make sure your ride is here when you arrive with our point to point limo transportation in Orlando. MCO (Orlando International Airport) is a busy hub of transportation, seeing close to 100 thousand passengers each day. Quickly booking fast transportation when you arrive can be a struggle. Be proactive and book ahead so your ride is waiting for you when your flight lands. The wide selection of vehicles you will find with us will ensure you find the vehicle that fits you. You can see pictures of our vehicles, passenger capacity, and price by clicking the pictures on the right so you can select the ride that's right for you!
Orlando Limo Rentals
Our fleet of limos in Orlando are sure to have the perfect vehicle for your transportation needs. If you're flying into MCO, have an Orlando airport limo transfer ready for you as you arrive to take you to your hotel or other destination. Whether you're new to Orlando or are a resident, if you're wanting to experience Orlando's nightlife, we are here to arrange the perfect party bus, or even a flashy Hummer limo to help you get the most out of downtown. We make the process of reserving your vehicle a breeze. We not only provide you with pricing information and vehicle capacity, but you can look before you buy at our gallery showing off our many Orlando limos. These pictures and knowing you have the space for your party will make you confident that you've selected the best vehicle for you. Don't make the mistake of waiting for just any vehicle when you arrive in Orlando, book with us and give yourself peace of mind.
Orlando is not only home to world-famous attractions and entertainment. As residents well know, Orlando hosts great sports entertainment and one of the largest colleges in the country. Are you looking to catch a Magic game? An Orlando Chrysler limousine will make sure you arrive at Amway Arena with style and class. If football is more your speed, check out the University of Central Florida Knights play in the astounding Bright House Networks Stadium! Is a friend or family member graduating from UCF? Reserve an Orlando, Florida limousine service with us and you'll have reliable, convenient transportation to the graduation ceremony and back.
Orlando, FL Limousines
Whether you're visiting Orlando with family to see the attractions, or on a business trip by yourself or with colleagues, we have you covered. From touchdown to takeoff, let us take care of you with a cheap Orlando limo rental of your choice. Don't leave things to chance and rely on the airport, your hotel, or the attraction to provide your transportation. We can equip you with the vehicle best suited to your needs and style. If it's a limo, a shuttle, a party bus or sedan service, we will make sure you arrive safely, on time, and in style. Leave the driving to us, and enjoy Orlando to it's fullest!
If you've come to book a limo for your time in Orlando, look no further. We offer a variety of vehicles to suit even the most demanding needs. Orlando is a popular city, not just because of our theme parks, but is a popular business destination as well. Flying into our city through MCO or Sanford Airport? Book with us now and set up airport limo transfer service to take you from your point of arrival to your destination. Orlando International Airport sees nearly one hundred thousand passengers daily, so be smart and book your limo with us instead of waiting when you arrive. We also offer a wide variety of limos in Orlando and other vehicles, and give you the convenience of looking at the pictures of your ride before you book. So don't wait around and click one of the images or links on the side of the page to view our full fleet of vehicles and receive a quote within seconds!
Limo Rentals in Orlando
If you are in Orlando for business, our drivers can help you make the most of your visit making sure you arrive safely, on time, and in as much style as you like. We offer a variety of luxury vehicles, classic looks such as a Lincoln Stretch Limo in Orlando to a flashy Rolls Royce Limo in Orlando. From the moment you arrive, we can offer you the convenience of point to point transportation to get you from the airport to your hotel. From the Marriot, Nickelodeon Hotel or from any other residence, we will make sure you get to your destination on time. For the business professional, the Orange County Convention center on International Drive is a popular destination, and we can provide you with a limousine in Orlando just as grand as the convention center itself.
It's not only business types that can enjoy our services. Planning a wedding? We can make sure you get to the wedding, reception, and back with one of our Orlando limos. We can even help with the driving for your bachelor or bachelorette party. Some clients wish to show up with a flash, and a pink hummer limo in Orlando would certainly make an impression at a prom or other celebration. With our top notch services, we let you know how many people can fit in a hummer, show you pictures of what your vehicle will look like, and give you a variety of price points to ensure you get the best limo for your buck.
Business people and revelers alike should know that we offer transportation in Orlando to downtown destinations as well. Orlando's nightlife provides a variety of clubs like Roxy and Backbooth, great places to party and unwind. Let us take care of the driving so you can focus on the partying. And while we have the best limos in town, consider a party bus if you really want to let loose with even more of your friends. People who want to be entertained come to Orlando from all over the world, smart travelers know to book ahead. Whether your purpose in Orlando is business or pleasure, we will provide you with a convenient, professional, and on-time transportation service in Orlando. Let us take care of the driving so you can take care of business!
Chrysler 300 Limo Orlando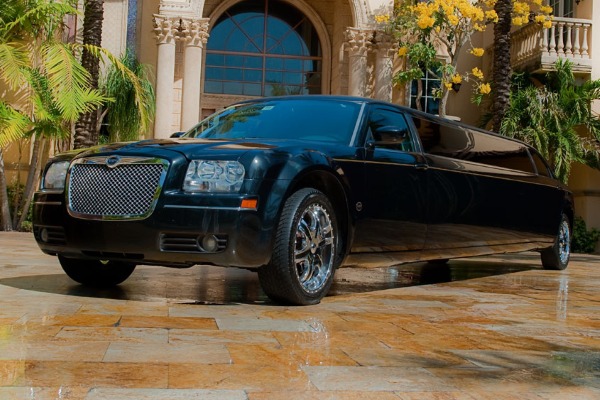 We offer a variety of vehicles to suit even the most demanding needs. Everything from an ultra-practical shuttle bus to the finest Chrylser 300 limos in Orlando can be booked through our services. Orlando isn't just a popular destination for families wanting to experience the magic of Disney, Harry Potter, and other theme parks. It's also a popular business destination and host to many trade events. If you're flying into our city through Orlando International Airport or Sanford Airport, take the time to arrange an Orlando airport limo transfer to take you from the tarmac to your hotel. As Orlando International Airport assists nearly one hundred thousand flyers per day, you'll want to book your transportation ahead of time and avoid waiting to secure a ride when you arrive. You didn't come to The City Beautiful to wait in the airport lounge, so start your trip off right with a luxurious limousine in Orlando, FL waiting for you when you land. Not only does our fleet of vehicles have the stylish Chrysler 300 Limo, but book with us and see vehicle specifications and photos of your ride before you book by clicking on the images/links on the side of the page.
Travelers coming to Orlando for business will find that our selection of vehicles and excellent services will see them arrive comfortably, on time, and in luxury when they book through us. We have a selection of limos for rent in Orlando and other vehicles that are sure to meet your needs, whether it's an elegant Orlando Chrysler 300 limousine for a prom, or an attention grabbing pink Hummer limo. The convenience of having reliable and knowledgeable transportation arranged for you is available right at your fingertips through us. Wherever you're staying and to wherever you're going, we have you covered. Popular destinations for business travel include the beautiful Orange County Convention Center located on International Drive, and no matter where you're staying, at the elegant Marriot, the fun Nickelodeon hotel or any other, we can help you meet your transportation needs.
Transportation Services in Orlando, Florida
Orlando is also a popular destination for marriages. Let us take care of all your transportation needs, as we ensure that you are on time for your wedding, reception, and maybe even a bachelor or bachelorette party with our luxurious limo services in Orlando, Florida. As sports fans know, Orlando is home to world class teams and athletes. Watch Dwight Howard and the Orlando Magic contend for another finals appearance in the Amway Arena. Catch a soccer game as the USL champions Orlando City Lions take on all comers. For any destination, sport or otherwise, we will give you the capacity of our vehicles so the journey is perfect from start to finish.
Does the night life and partying sound more your speed? Downtown Orlando offers world class clubbing, with venues like The Social, Chillers, Independent Bar and more. Dazzle other party goers when you arrive in one of our elegant Orlando, FL limousines, or add a mobile party platform when you book a spectacular party bus in Orlando. These clubs on wheels will drive you safely to and from your destination. Have the party start when you get on the bus, not when you get off! Graduations, proms, business meetings and sporting events, we have you covered. Why wait? Check out our selection today by clicking on the links on the side of the page so you can get the perfect vehicle for your journey.